Shopping Basket
Your Basket is Empty
There was an error with PayPal
Click here to try again
Thank you for your business!
You should receive an order confirmation from Paypal shortly.
Exit Shopping Basket
"Tending to the Spirits of Animals One Human At a Time."
Hello Everyone!
No.  I haven't fallen off the face of the earth!  I have been preparing for the trip of a lifetime. 
This afternoon I leave for Phoenix and tomorrow evening I will officially become an Ordained Animal Chaplain.
Graduation services take place on Thursday evening, and somewhere during all of this you might find me floating on air.....or in the air flying east and west:) 
It's going to be a whirlwind trip but a trip that has been looked forward to with great preparation and anticipation.
Hopefully, we will have pictures, but I know I will have stories to share.  
Love and Light, Barbra
Hello Everyone!
Posting has become a non-event lately due to major events leaving both mind and spirit adapting to continuous change.  
I owe so many so much, both new friends and those who have traveled by my side over the past decades.  
One wise sage once said, "Nothing is permanent, not even a permanent," and the older I get, the more these words ring true.   
 I do want to let you know, though, I am currently in the middle of a move, will soon be missing someone very dear who has been one of my biggest supporters on this journey I am traveling.  And am very busy finishing up my Animal Chaplain Studies aiming for an April Ordination.
So, please bear with me as I am just getting started, and am finding myself, if only for a few more days, "62 with lots to do."
Stay Tuned.
Love and Light,
Barbra Richards 
Hello Everyone!   
All I have to say is:  Tomorrow evening at 6:30 all are welcome to join me for our first Naming Ceremony for these beautiful babies at the Ray of Light Farm.  I will be officiating and Rev. Janet Lee Kraft will be offering her tranquil harp music for all of us to enjoy. 
The Ray of Light Farm is Located at:  232 Town Street (Rt 82),  East Haddam, CT.  Phone: 860-873-1895
They are located just up the street from the Gillette Castle State Park.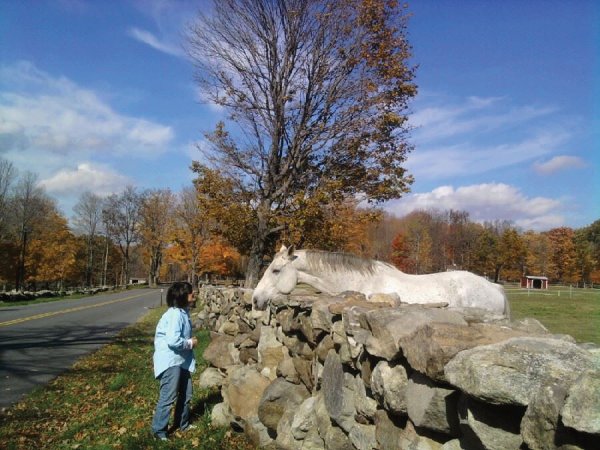 THE WHITE HORSE
Can you see the connection?
On a picture perfect Autumn day last October, I made the unexpected acquaintance of  a beautiful white horse and a Croatian healer named Braco. 
 Energy soaring, my friend and I stopped along a stone wall to visit some horses that were hanging out nearby.  
As I was preparing to leave,  I glanced over my shoulder and caught the eyes of a horse on the far end of the pasture. 
For some reason, we both stopped in our tracks.  He had been grazing  with a friend.
In total amazement and never breaking eye contact, we both approached the stone wall.  And, no!  This isn't a romance novel!   
He rested his head on the wall in front of me, and this may sound insane, but the energy was palpable.  All I could think of was:  What is happening here?
Welcome to my journey.  It has been completely amazing so far.  So much to share that's already happened and new things on the horizon.  
Please bear with me as I attempt to put things in order....and catch up on my homework.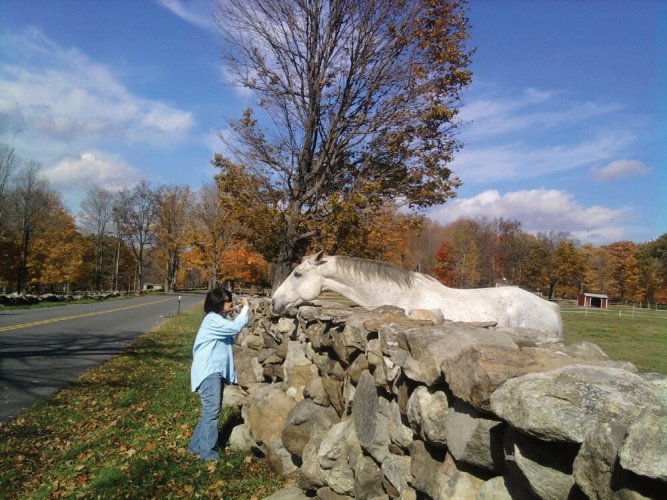 Love and Light,
Barbra, Paws, Prayers 'n' People
/